The A&P Oral and Practical Preparation Course: The A&P Aviation Mechanic Course is a specialized program starting every Thursday for students who have already passed the FAA Knowledge Tests for the mechanic ratings sought. Check to be sure your written exam results have not expired. This intensive program is designed to help the student applicant pass the Oral and Practical examination with an FAA Designated Mechanic Examiner at the conclusion of the course.
---
PART 147 SCHOOL: If you have graduated/completed from an FAA Approved Part 147 Maintenance School and have taken the knowledge tests with the school you DO NOT need to visit the FAA in your area to receive 8610-2 authorization. American Airman Ground School is authorized to complete an 8610-2 on your behalf. We will need to see your "Airframe and/or Powerplant Completion Certificate," "unofficial transcripts" and passed FAA "knowledge exam results" from the part 147 school. Contact us with questions.
---
A&P Oral & Practical Preparation: This final phase consisting of PowerPoint presentations & hands-on participation prepares you for the oral and practical examination with a FAA Designated Mechanic Examiner. Knowledge regarding aircraft structure, propulsion, controls, instruments, wiring, landing gear, and all the rules governing airplane logbook signoffs, and much more will be covered in detail.
---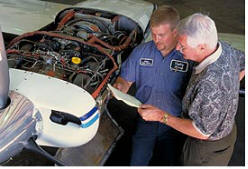 A&P Oral & Practical Testing: At the successful completion of course you will take the Oral and Practical Examination with one of our 4 FAA Designated Mechanic Examiners. Our DME's are located at our facility. You will participate in the Oral and Practical at the immediate conclusion of the Oral and Practical Course.
---
Included are required oral and practical exam preparation texts, exam preparation workbooks, mandatory FAA Advisory Circulars, additional handouts and government materials. Included is all classroom lecture, mock oral and practical examinations, unlimited access to school library, and computer lab.
* FAA Designated Examiner Testing Fee of $700 not included.
---

CONTACT US TODAY: We are here to answer all your questions and guide you in the process of realizing your dream of becoming a licensed A&P Mechanic. Contact us to learn more about all our programs or to enroll in the one of our preparation courses at 800.786.9060. Please take a moment to complete our on-line application questionnaire.
---